9th to 11th October 2016, Berlin, Germany.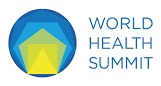 Held once a year, the WHS has grown into the world's most prominent forum for addressing global health issues. It brings together key leaders from academia, politics, civil society, and the private sector to address the most pressing health-related challenges on the planet.
The summit's central topics include:
Migration and Refugee Health: From Care to Policy
Technological Innovation for Health: Improving Healthcare Delivery
Women, Empowerment and Health: Equality and Agency
Translational Research: Advancing Innovative Treatment
Infectious Diseases: Lessons Learned from Ebola to Zika
Sustainable Development Goals: Transforming the Health Agenda
The vision behind the World Health Summit is to improve health all over the planet, catalyzing that process through collaboration and open dialogue, and steering tomorrow's agenda to improve research, education, healthcare, and policy outcomes.
The WHS mission is to bring together researchers, physicians, key government officials, and representatives from industry – as well as from NGOs and healthcare systems all over the world – to address the most pressing issues facing every facet of healthcare and medicine in the upcoming decade and beyond.
Tip: More up to date educational events can be found online in the Education Database »medicine & health«.