12th to 14th November 2018, Abu Dhabi, United Arab Emirates.
Under the patronage of Ministry of Health & Prevention, BII is pleased to announce the inaugural launch of the International Patient Experience Symposium scheduled for 12th -14th November 2018 in Abu Dhabi (UAE). Emphasizing the paradigm shift towards 'person-centered care' and propagating patients to be equal partners of their own care journey, the event will re-imagine the existing care models and help deliver on the strategic promise of experience excellence.
With many healthcare organisations struggling to define what the patient experience really looks like it is important to understand the role that everyone plays throughout the patient's journey at all levels, from the Hospital CEO to the clinical staff to the receptionist.
---
If you write an e-mail to office@goinginternational.org you receive 10% booking discount!
---
The event speakers, all senior-level experts from leading healthcare organizations, will dive deep into evidence based best practices, case studies, and expert insights into technology, tools, and strategies being used right now. No matter where your organization is on the journey to patient experience, you'll walk away with smart insights, actionable tactics and an imagination full of possibilities to drive your patient experience strategy to the next level.
Central Themes
Building & Sustaining PX Initiatives Across the Continuum of Care
Boosting Employee Engagement & Wellbeing to Achieve PX Goals
Capturing Patient Stories to Transform Delivery of Care
PX Innovation & Technological Interventions
Next Level Engagement & Communication at the Heart of PX
Facility Design Revolution – PX Re-factored
General Information
Date:
12th to 14th November 2018
Location:
Bab al-Qasr Hotel
Corniche Road West
Abu Dhabi
United Arab Emirates
Fees:
End User Delegate Rate: $ 899
Vendor Delegate Rate: $ 1999
If you write an e-mail to office@goinginternational.org you receive 10% booking discount!
For more information visit the congress website.
---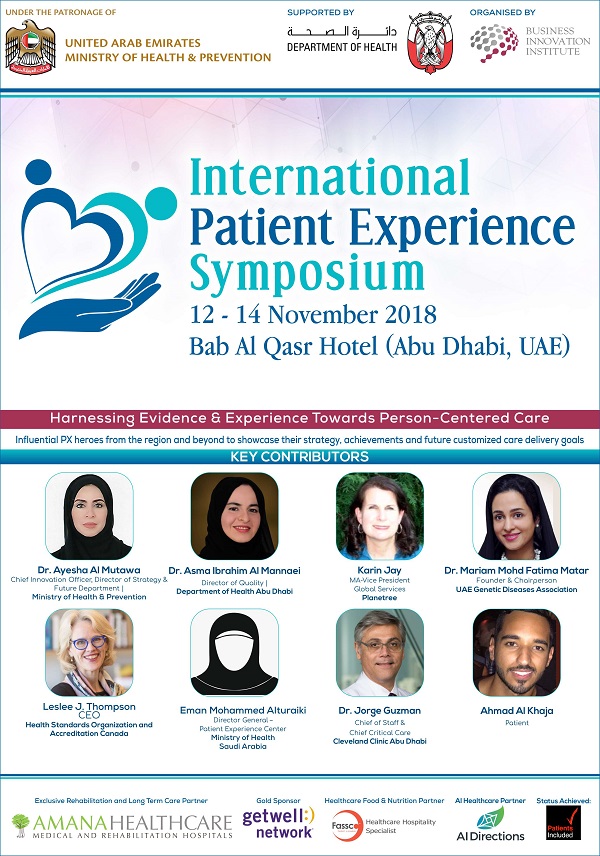 ---
Published in GI-Mail 08/2018 (German edition) an GI-Mail 09/2018 (English Edition). Sign up for GI-Mail here.  

Tip: More up to date educational events can be found online in the Education Database »medicine & health«.