2nd to 5th October 2018, Bad Hofgastein, Austria
We are excited about introducing new ways of outcomes-oriented working to the EHFG – for the first time, the EHFG will be hosting a joint hackathon with our new partner EIT Health, a network of health innovators backed by the EU. A hackathon nurtures competition built upon collaboration and aims for an acquisition of knowledge, which is expected to bring forward new ideas.
Objective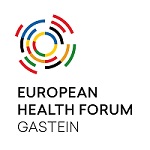 Our objective is to bring together 35 participants from different backgrounds from all over Europe to work in teams on an innovative solution to a neat, well-defined problem within 36 hours. The hackathon will start in the afternoon of 2 October 2018 with an expert workshop defining an issue for which we seek a solution. The proposed issue will then be presented to the hackathon teams who will start working immediately, while receiving guidance and input from mentorsthroughout the process.
At the end of the 36-hour period, the teams will have pitch presentations in front of an expert jury, with the three top teams presenting their solutions to the general audience during the Closing Plenary on 5 October. The winning teams will receive jury and audience prizes of 25.000€ in total value and an additional boot camp participation.
  Save the date:
#EHFG2018 
3 – 5 October 2018
European Health Forum Gastein
Health and Sustainable Development
Bold political choices for Agenda 2030
Bad Hofgastein, Austria
---
Published in GI-Mail 08/2018 (English edition). Sign up for GI-Mail here.  

Tip: More up to date educational events can be found online in the Education Database »medicine & health«.