The European Health Forum Gastein (EHFG) webinar series "Gastein goes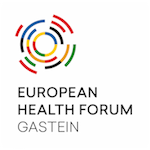 online: Policy debates during the pandemic" has been created to keep the Gastein-dialogue going during the COVID-19 crisis. Throughout the series the EHFG will address burning questions from the perspective of the EHFG's four pillars, the public and private sector, civil society, and science & academia.
The first EHFG Webinar: Does speed trump perfection? Evidence for policy and practice explored the pandemic from the viewpoint of science, academia, and governance. This webinar brought together over one hundred participants to discuss the evidence needs of policymakers and how to balance speed and rigour during a fast-moving pandemic such as COVID-19. To view this engaging debate please access the recording here.
Are you ready for new discussions? Exciting exchanges and debates are set to continue with further webinar editions planned in the lead-up to the digital EHFG 2020. The upcoming webinar scheduled to take place in early August will focus on the role and response of the private sector during the crisis. Among other interesting topics, the session will address the evolving role of the pharmaceutical industry during the pandemic. We are looking forward to engaging with speakers and participants from various sectors and diverse backgrounds.
Please follow the EHFG on Twitter and Facebook to register for our upcoming webinars. We are looking forward to welcoming you!
---
Published in GI-Mail 07/2020 (English edition).