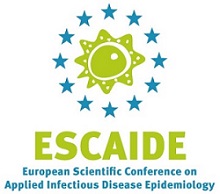 6th to 8th November 2017, Stockholm, Sweden.
​ESCAIDE, the European Scientific Conference on Applied Infectious Disease Epidemiology, is a three-day annual scientific conference, open to the wider communicable disease surveillance community.
It gathers around 500 – 600 professionals across all fields related to applied epidemiology. This includes, but is not limited to, epidemiologists, veterinarians, microbiologists, clinicians, public health professionals, communication specialists, modelers, statisticians, social scientists and policy makers. They share their scientific knowledge and experience in all areas applied to infectious disease epidemiology, public health microbiology and related scientific fields.
The aims of ESCAIDE are:
discussing and debating scientific advances and current public health challenges
strengthening and expanding the human network of all involved in this field in Europe and globally
providing opportunities for further professional development for fellows and students in this field, e.g. EPIET, EUPHEM, FETP and other national/international training programmes
General Information
Date: 6th to 8th November 2017
Location:
Stockholm Waterfront Congress Centre
Nils Ericsons Plan 4
Stockholm, Sweden
Program: Find the preliminary program here.
Registration: Find more information on the regestration and fees here.
Contact: escaide.conference@ecdc.europa.eu
For more information, visit the congress website.
Published in GI-Mail 08/2017 (English edition). Sign up for GI-Mail here.  

Tip: More up to date educational events can be found online in the Education Database »medicine & health«.