Every year, the European Health Forum Gastein (EHFG) provides a key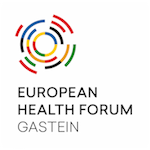 platform to discuss health and societal well-being in Europe and beyond, bringing together experts, stakeholders and key decision-makers from the public and private sector, civil society and science and academia.
As the COVID-19 pandemic continues to impact the world in unprecedented ways, the EHFG as well is facing the need to redefine how we can keep connecting to shape the future of European health policy, while minimising risks to public health and the well-being of our participants.
In light of ongoing uncertainties around the international COVID-19 situation in the autumn, the EHFG 2020 will take place as a digital event – and the EHFG is excited to bring the Gastein spirit to a virtual environment!
Under the main theme, 'Dancing with elephants – New partnerships for health, democracy, business', the EHFG 2020 will address essential relationships between health and commercial, economic and political agendas, as well as the partnership models and approaches needed to face a post-COVID-19 future. The programme will place particular emphasis on topics such as health systems' emergency preparedness and response, European collaboration and solidarity, the 'infodemic' during the COVID-19 period, and the impact of this crisis on our societies and constitutional democracies as a whole.
The EHFG 2020 digital edition will bring together the EHFG community online, and offer a mix of live sessions and streams, recorded materials, and opportunities to digitally network and brainstorm with other participants as well as actively contribute to live discussions.
The EHFG  looks forward to taking you on this new journey – details about the programme and registration will be announced at The EHFG website, Twitter and Facebook soon.
---
Published in GI-Mail 06/2020 (English edition).