20th to 22nd March 2017, Prague, Czech Republic.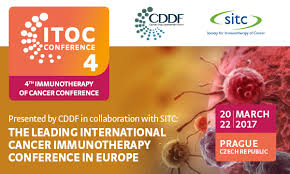 The Cancer Drug Development Forum (CDDF) in collaboration with the Society for Immunotherapy of Cancer (SITC) have the great pleasure to invite you to take part in the 4th Immunotherapy of Cancer Conference (ITOC4).
The ITOC series of conferences is the premier meeting for education, scientific exchange and networking within cancer immunotherapy. The fourth edition (ITOC4) will take place in Prague, Czech Republic. It aims at providing a forum for all professionals working in immunotherapy to discuss early clinical drug development and address the unique challenges of translational research.
The programme will focus on the latest challenges and innovations with a special emphasis on combination therapy, immuno-monitoring and biomarker development.
The Cancer Conference is addressing preclinical and clinical scientists, clinical investigators, postdoctoral fellows involved in cancer research, regulatory scientists, healthcare professionals and the pharmaceutical industry.
General information

Date: 20th to 22nd March 2017

Location:

Prague Congress Centre
5. kvetna 65 – CZ-14021 Prague, Czech Republic

Registration: For information on registration & fees click here 

Published in GI-Mail 01/2017 (English + German edition). Sign up for GI-Mail here.  

Tip: More up to date educational events can be found online in the Education Database »medicine & health«.