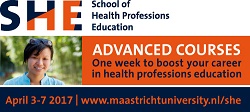 To train and teach future health professionals SHE offers various Health Professions Education courses in 2017 for you. Health professions education lies at the basis of successful health care. Our future health professionals must be trained by professionals who have the vision, knowledge and skills to plan, deliver and improve sound educational programmes. The reputation and expertise SHE has in health professions education and educational innovation, as well as a strong belief in lifelong learning, guarantees a broad range of quality, student-centered on- and offline programmes to become part of.
The Maastricht School of Health Professions Education (SHE)
SHE is a graduate school for high quality education, research and innovation in health professions education of Maastricht University in the Netherlands. SHE provides high quality multidisciplinary research and teaching aimed at the improvement of health professions education. The school offers a wide range of courses in health professions education, from short courses, certificate courses to degree programmes such as a Master of Science and PhD programme.
The International Character of SHE
SHE attracts participants from all over the world, from different educational contexts and with different professional backgrounds. This provides a rich source of practical perspectives to learn from.
For Whom?
For teachers, educators, managers, programme directors, curriculum developers, decision-makers and all others interested in studying at a graduate school for education, training and research in health professions education. Health professionals play an important role in preventing, treating and curing disease and in promoting health at the individual and societal levels. It is essential to ensure that those who train healthcare professionals create effective educational programmes that result in high quality health services.
Date: April 3-7, 2017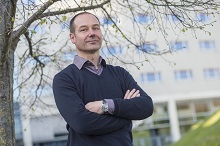 Masterclass Curriculum and Course Design in Medical Education
A course on how to systematically design a medical course or health educational programme. The theoretical basis is provided by the four-component instructional design model (4C/ID).
Masterclass Qualitative Research in Health Professions Education: Research Questions, Design and Methods
This course provides a practical introduction to qualitative research methods as applied to Health Professions Education. During the course you will be guided in turning your project ideas into a feasible research proposal. 
Masterclass Assessment of Professional Competences
Starting point in this course will be the (new) messages from assessment research. The focus will be on the challenge to translate these insights to (your own) assessment practice. Attention will be paid to different approaches to assessment (design), including programmatic assessment.
Date: April 5-7, 2017
Masterclass Simulated and Standardized Patient
The first European course for Standardized Patient (SP)-educators about how to use Simulated and Standardized Patients in your curriculum: training, assessment and research with SPs.
Date: June 19-23, 2017
Summer Course in STUDENT CENTRED LEARNING: APPLYING MODERN LEARNING PRINCIPLES
"Renewed and innovated by the latest insights in health professions education, our Summer Course is the first inspiring and international encounter with SHE. This experience fuels ambitions to become a health professions educationalist." In this course we share many years of theoretical and practical experience in managing and assessing learning in student centered curricula as implemented by Maastricht University. (This course includes a preparatory mini-MOOC on Problem-Based Learning).
Date: 1 May, 2017
100% ONLINE CERTIFICATE COURSES IN HEALTH EDUCATION, 16 weeks
SHE Certificate Courses in Health Education
In between the Advanced Focus Courses and the Master programme of Health Professions Education (MHPE), a programme of Certificate Courses in Health Professions Education has been introduced. All Certificate Courses can be followed as a MHPE track that can be used as an exemption for a unit in the MHPE Programme.
Four Certificate Courses are provided: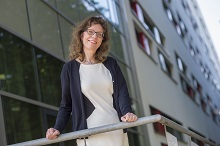 Curriculum Development
Assessment and Evaluation
Educational Management and Leadership
Work-Place Based Learning
Date: 15 May, 2017
Master of Health Professions Education (MSc) (partly campus-based)
A two-year, half-time programme on skills and knowledge required for a career in health professions education and educational research.
Mostly distance-based education. Two units are campus-based in Maastricht
Instructional method: Problem-Based Learning (PBL)
Year one: introduction of the themes of learning and instruction, curriculum development, assessment, organisation and leadership
Year two: advanced modules on the themes treated in year one. Students can choose between a regular track and a specialised track which focuses more on research
Distance-based collaborating master's programmes are also offered in Egypt, Canada, Singapore and New York, USA
PhD in Health Professions Education
Conducting research in health professions education within the participant's own educational setting that results in a PhD thesis. With distance supervision from highly experienced and internationally acknowledged educational researchers associated with SHE. Help can be offered in writing a PhD research proposal.
Contact Information

Maastricht University,

Maastricht University Medical Centre (MUMC+)

School of Health Professions Education

Faculty of Health, Medicine and Life Sciences

P.O. Box 616

6200 MD Maastricht

The Netherlands

Email:

she@maastrichtuniversity.nl

More information and registration at

www.maastrichtuniversity.nl/she
Published in GI-Mail 01/2017 (German edition). Sign up for GI-Mail here.  

Tip: More up to date educational events can be found online in the Education Database »medicine & health«.