30th March to 1st April 2016, Amsterdam, Netherlands.
CoPedia is one of the few congresses that brings together groups of interdisciplinary experts to tackle current clinical controversies in the field of pediatrics. The 4th CoPedia will focus on Infectious Diseases, Immunizations, Nutrition, Endocrinology, Obesity, Allergy, Asthma, Neurology, ADHD, Cardiology, Hematology, Neonatology, and more.
The CoPedia scientific program will address the most burning questions in the field of pediatrics and will provide an effective forum to discuss and debate these questions. In addition, there will be ample time allocated to speaker-audience discussions.
As one CoPedia participant put it, "you'll probably have to travel to half a dozen congresses to get what you get at CoPedia."
---
General Information
Date: 30th March to 1st April 2016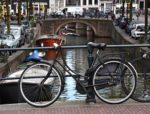 Location:
Mövenpick Hotel Amsterdam City Centre
Piet Heinkade 11
NL-1019 BR Amsterdam
The Netherlands
Program: Find the preliminary program here.
Course language: English
Contact: copedia@congressmed.com
Registration: For information on registration and fees click here.
---
Published in GI-Mail 10/2016 (English edition). Sign up for GI-Mail here.  

Tip: More up to date educational events can be found online in the Education Database »medicine & health«.