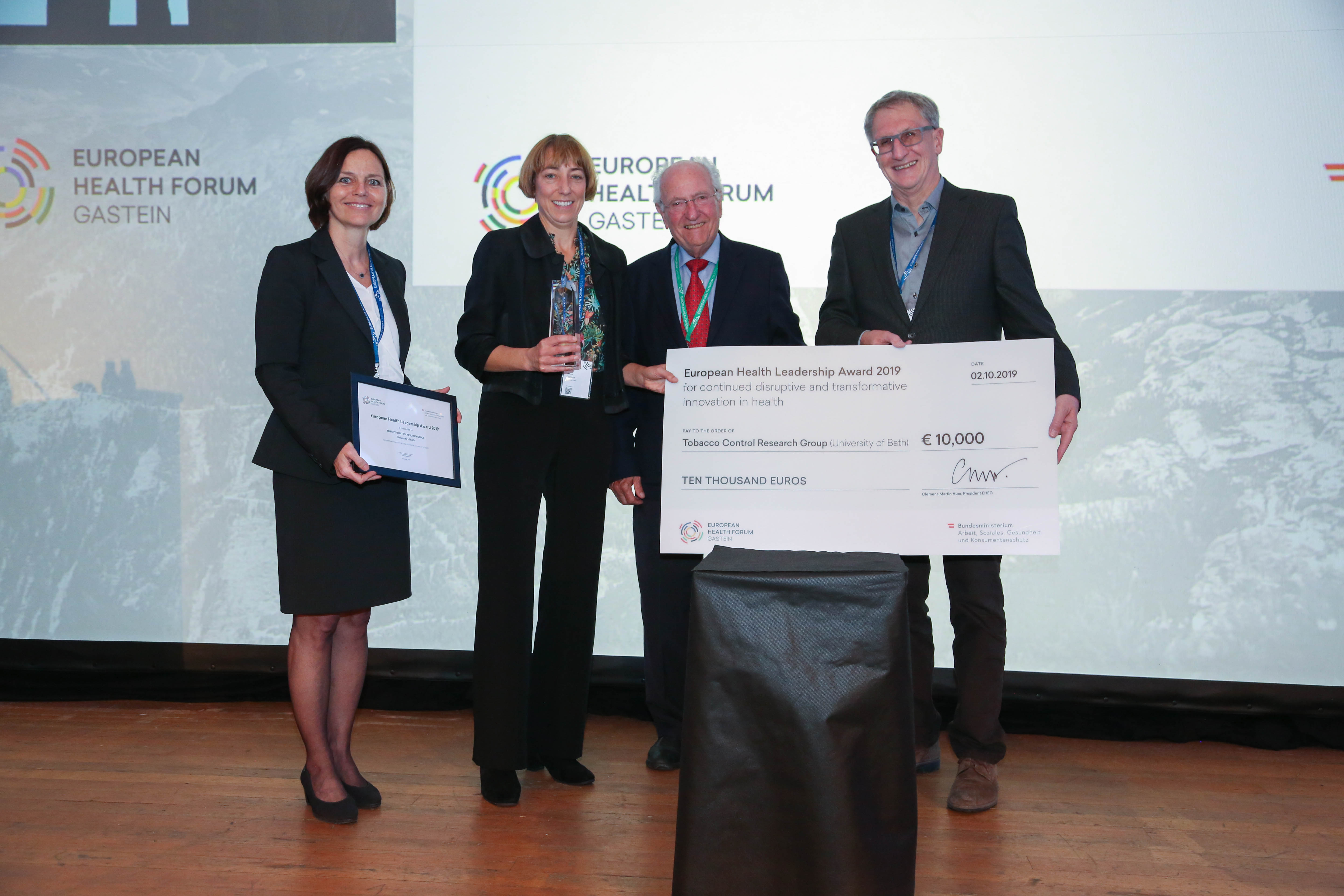 This year's European Health Forum Gastein (EHFG), held from 2-4 October in Bad Hofgastein, focused on the topic of "A healthy dose of disruption? Transformative change for health and societal well-being". Around 600 attendees representing the four pillars of the EHFG – public sector, private sector, science and academia, and civil society, among them ministers and high-level representatives from EU member states, WHO Europe, the European Commission, as well as representatives from NGOs and renowned research institutions – were asked to engage in debates on the nature of disruption needed to move European health systems forward.
For the first time ever, the EHFG awarded the European Health Leadership Award (EHLA), which is sponsored by the Austrian Federal Ministry of Labour, Social Affairs, Health and Consumer Protection. Launched to shine a spotlight on disruptive thinkers who are leading sustainable efforts to improve health outcomes across the EU, the winner was awarded with 10,000€. "The prize honours individuals and projects that have played a pivotal role in challenging the status-quo of health in Europe", said Dorli Kahr-Gottlieb, Secretary General of the EHFG.
Chosen from six shortlisted candidates who have all demonstrated unique and innovative ways of challenging the status-quo of health in Europe, the winner of the 2019 EHLA is the Tobacco Control Research Group (TCRG) at the University of Bath (United Kingdom). The TCRG has been challenging the tobacco industry's ability to influence government and bringing attention to the commercial influences on health.
Founded in 2007, the TCRG has established itself as a global leader in tobacco control research over the years. The research group launched the ground-breaking database Tobacco Tactics for research and information on the tobacco industry and has a proven track-record of impacting tobacco control policies in the United Kingdom and beyond. The group has also exposed several controversial tactics of the tobacco industry. Their evidence has uncovered the extent to which big tobacco is still facilitating tobacco smuggling while at the same time trying to conceal this fraudulent practice.
"Tobacco use is one of the most severe risk factors for non-communicable diseases – one of the biggest global health problems to date. The TCRG has made it their mandate to disrupt one of the most lucrative global industries by monitoring and investigating the industry's influence on health behaviour and critically examining their public intention of reducing harm from tobacco. We are thrilled to be the proud recipients of the EHFG's first European Health Leadership Award", concludes Anna Gilmore, Director of the Tobacco Control Research Group at the University of Bath.
The TCRG announced that they would soon be looking into adapting their model to take on obesity and alcohol with the same methodology.
Visit the official website of the EHFG.
---
Published in GI-Mail 10/2019 (English edition). Sign up for GI-Mail here.  
Tip: More up to date educational events can be found online in the Education Database »medicine & health«.