4th to 7th December 2019, Vienna Austria.
EuroEcho is the annual congress of the European Association of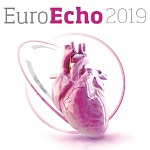 Cardiovascular Imaging (EACVI) and the world's leading echocardiography congress.
This year's main themes will be Cardiomyopathies and Imaging in Acute Cardiac Care. The aim of EuroEcho will be to create an exciting forum, in which both clinicians and scientists can present and discuss the most up-to-date research and clinical findings on the broader spectrum of echocardiography alongside with the other cardiovascular imaging modalities. Cardiologists, physicians from other specialties and imagers who use these cardiac and vascular imaging techniques will interact to discuss how to ideally use all the capabilities offered by these techniques and how to further develop them in the near future.
An educational track will run throughout the congress, featuring several specifically designed courses and sessions. Young cardiologists and researchers will be stimulated and supported through the two Young Investigator Award competitions (clinical and basic science).
The EuroEcho 2019  has been accredited by the European Accreditation Council for Continuing Medical Education (EACCME®) with 21 European CME credits (ECMEC®s)
General Information

Date:

4th to 7th December 2019

Location:
Messe Wien Exhibition & Congress Center
Messeplatz 1
1020 Wien



For more information and detailed program visit the website.

---
Published in GI-Mail 11/2019 (English edition).