10th to 12th May 2017, St. Julian's, Malta.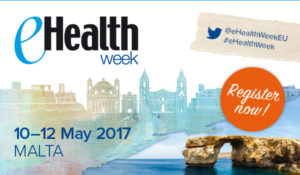 The overarching theme of eHealth Week 2017 is Data for Health: the key to personalised sustainable care. Data lies at the heart of service delivery and the development of effective health policy. During eHealth Week, speakers and delegates will explore the changing ways in which personal health data is created, stored, shared and used. Advances in bioinformatics support a paradigm shift towards tailor-made prevention and treatment strategies both for individuals and population groups. Opportunities are growing for ICT to support patient-centred health services and the involvement of patients in their own care, including access to personal health data, sharing of data, and mHealth applications.
While health services wish to embrace all the advances that technology has to offer and provide them to the populations they serve, sustainability needs to be achieved. Health IT offers important opportunities to improve the efficiency of health care delivery through innovative approaches to service delivery and public health, impacting the well-being of both individuals and populations. eHealth Week will also provide high-level delegates with the opportunity to learn about Malta's eHealth systems and see them in action, in particular the myHealth portal and integrated nation-wide eHealth deployments. Malta's Digital Health Strategy for the years 2017 to 2021 will also be presented.
The image video shows the highlights of  last year's eHealth Week:
General Information
Date: 10th to 12th May 2017
Location:
Intercontinental Hotel Malta
St George's Bay
St. Julian's STJ 3310
Malta
Registration: For information on registration & fees click here.
Published in GI-Mail 03/2017 (English edition). Sign up for GI-Mail here.  

Tip: More up to date educational events can be found online in the Education Database »medicine & health«.