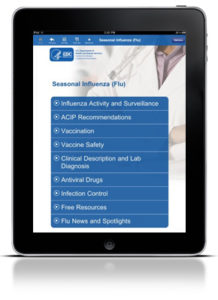 The CDC Influenza application for clinicians and other health care professionals makes it easier than ever to find CDC's latest recommendations and influenza activity updates on your iPad, iPhone, iPod Touch, or Android devices. When your mobile device is connected to the internet, new information and content will update automatically. This is an official application of the Centers for Disease Control and Prevention.
With this application, you can:
View updated information on national flu activity
Find influenza vaccination recommendations endorsed by CDC and the Advisory Committee on Immunization Practices (ACIP)
Obtain information on diagnosis and treatment of influenza, including antiviral treatment recommendations by CDC and the ACIP
Obtain information on laboratory testing for influenza
Find CDC recommendations on influenza infection control
View videos of CDC subject matter experts discussing influenza topics
Order official CDC designed print products for posting in the workplace or distributing to patients.
Click here to download the App.
Published in GI-Mail 12/2016 (German edition). Sign up for GI-Mail here.  

Tip: More up to date educational events can be found online in the Education Database »medicine & health«.