Communication tips by Nursing on the Move.

Are you a professional or a pre-professional?
Do you use a second or foreign language at work?
Do you have a friend who speaks a foreign language at work or has a cultural background different from colleagues/customers?
Active listening is an important skill in a medical context and it lays the foundation for your professional interactions and relation-building with your patient (see the tips from May 2016 until November 2016).
When we start communicating using words, how we say things can be as important as what we say. This may seem odd, but approximately 30% of our understanding relies on voice quality, tone of voice, intonation patterns and the like. So, the same basic message can be interpreted very differently, if it is said in different ways. However, using appropriate language (words) will help both you and the patient have an effective and satisfying consultation (see Pendleton 2007; Silverman et al 2006; Tate 2007). Generally, appropriate language is understandable (January 2017), respectful (February 2017) and honest (March 2017).
For more information, tips and examples, click here.
© 2016 Communication for Professionals
You can find an overview of all communication tips here.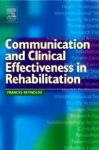 Communication and Clinical Effectiveness in Rehabilitation
by Frances Reynolds
Incorporating a patient-focused perspective on communication and health care, this new title for physical and occupational therapists and students provides practical strategies for effective communication with both colleagues and patients… shop the book
The medical consultation viewed as a value chain: A neurobehavioral approach to emotion regulation in doctor–patient interaction
by Arnstein Finset, Trond A. Mjaaland
The aim of the study is to present a model of the medical consultation as a value chain, and to apply a neurobehavioral perspective to analyze each element in the chain with relevance for emotion regulation. Current knowledge on four elements in medical consultations and neuroscientific evidence on corresponding basic processes are selectively reviewed. … read more
Treating Patients with care 
16th to 18th January 2017, Eureka, CA, USA
Find more information here.
Published in GI-Mail 12/2016 (English + German edition). Sign up for GI-Mail here.  

Tip: More up to date educational events can be found online in the Education Database »medicine & health«.