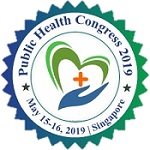 15th to 16th May 2019, Singapore.
The 7th World Congress on Public Health, Epidemiology & Nutrition will be held from May 15-16, 2019 in Singapore. The major theme of the conference is "Empowering Public Health and Advancing Health Equity".
The public health congress is an international forum for academicians, nutritionists, healthcare providers, dieticians, public health specialists, health professionals, scientists, researchers, policy makers and health workers to present their latest research ideas, development and applications in all areas of public health, epidemiology and nutrition.
The open exchange of ideas and the freedom of thought and expression are the major characteristics of our conference. The 7th World Congress on Public Health, Nutrition & Epidemiology will focus on various topics like adolescent health, mental health, mental disorders, sexually transmitted diseases, epidemiology and public health, environmental health, clinical epidemiology, nutritional epidemiology, nutritional health, etc.
The public health congress has chosen Singapore, as today there are a number of world-leading companies, research institutes and individuals which are active in various fields.

General Information
Date: 
15th to 16th May 2019
Location:
Holiday Inn Singapore Atrium
317 Outram Rd
Singapore 169075
Registration and Fees: Register online.
For more information visit the congress website.
---
Published in GI-Mail 11/2018 (English edition). Sign up for GI-Mail here.  

Tip: More up to date educational events can be found online in the Education Database »medicine & health«.