13th to 17th August 2017, Basel, Switzerland.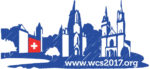 The 47th World Congress of Surgery of the International Society of Surgery (ISS)  will take place August 13-17 in Basel. The goal is a successful and scientifically sound congress, the focus of the ISS will be on the new generation of surgeons who represent the work force of the future.
Special membership and congress fees will be available for medical students, residents and fellows. The ISS foundation will support the participation of surgeons from low income countries through travelling grants. Similar grants are also sponsored by the participating societies.
Awards will be given to the best presentations by trainees. In collaboration with the Association of Academic Surgery and the World Journal of Surgery, the ISS will sponsor a Career Advancement Course and a Writer's Course, hoping to replicate the participation and the success of similar activities in Helsinki in 2013 and in Bangkok in 2015.
Published in GI-Mail 03/2017 (English edition). Sign up for GI-Mail here.  

Tip: More up to date educational events can be found online in the Education Database »medicine & health«.