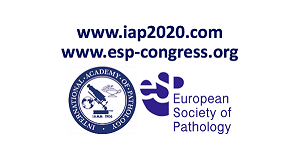 6th to 8th December 2020, online.
With Glasgow 2020 now a virtual meeting, European Society of Pathology (ESP) and International Congress of the International Academy of Pathology (IAP) have been redesigning and updating the congress schedule, including sessions on COVID-19 pathology, with significantly reduced registration fees, which allow the broadest possible audience to participate in the scientific programme.
The virtual congress will now take place from 6th to 8th December 2020.
The ESP/IAP Congress in December will be one of the first pathology meetings where major new findings on COVID-19 will be presented. We remain devoted to providing you with the best cutting-edge pathology science, this time, in a novel, engaging format.
The aim of the organisers is to provide an up-to-date scientific programme covering all major areas of diagnostic, translational, molecular and investigative pathology. Special emphasis will be put on both recent discoveries in pathology, and the reinforcement of close clinico-pathological cooperation.
A wide range of clinically orientated and scientific sessions will be offered, presenting topics such as Autopsy Pathology, Breast Pathology, Cardiovascular Pathology, Cytopathology, Dermatopathology, Digestive Diseases Pathology (GI, liver, pancreas), Electron Microscopy, Endocrine Pathology, Gynaecological Pathology, Haematopathology, Head and Neck Pathology, History of Pathology, Infectious Diseases Pathology, IT in Pathology, Molecular Pathology, Nephropathology, Neuropathology, Ophthalmic Pathology, Paediatric and Perinatal Pathology, Pathology in Favour of Developing Countries, Pulmonary Pathology, Soft Tissue and Bone Pathology, Thymic and Mediastinal Pathology, Uropathology, COVID-19.
The core programme will be prepared with a strong input from the ESP Working Groups together with BDIAP and international IAP representatives.
General Information

Date:

6th to 8th December 2020

Location: online

For more information and detailed program visit the website.

---
Published in GI-Mail 08/2020 (English edition).