23rd to 24th November 2017, Berlin, Germany.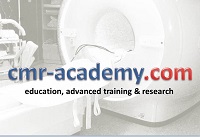 This workshop offers dedicated training on the principles and applications for quantitative tissue characterization using different mapping techniques.
The course focuses on advantages and limitations of novel pulse sequences for parametric mapping and their clinical applications for assessing fibrotic, inflammatory and infiltrative cardiomyopathies, myocardial edema and iron overload.
Day one of the workshop will deal with technical background like physics and experimental data. Day two will concentrate on clinical application and will deal with hands-on analysis of live and previous cases.
The courses are taught by specialists from the Deutsches Herzzentrum Berlin (DHZB) and by guest lecturers from other renowned institutions. So far over 1000 international participants have successfully completed the CMR courses.
The Academy's courses are certified by the German Society for Cardiology, the Society for Cardiovascular Magnetic Resonance, the Berlin Physicians Association and the European Board for Accreditation in Cardiology (EBAC).
General Information

Date: 23rd to 24th November 2017

Location
Deutsches Herzzentrum Berlin
Augustenburger Platz 1
13353 Berlin, Germany

Contact: info@cmr-academy.com

Find more information on the workshop here.

Published in GI-Mail 07/2017 (English edition). Sign up for GI-Mail here.  

Tip: More up to date educational events can be found online in the Education Database »medicine & health«.