In our Through My Eyes series, we provide a platform for people to share how a particular medical condition has affected their life. By shining a spotlight on the physical and emotional, this series aims to raise awareness while providing practical advice and support to any readers who may be experiencing something similar.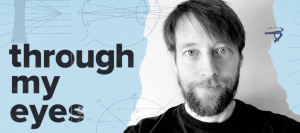 After being on a list of potential donors for 12 years or so, this past month saw me finally have the opportunity to give away some of my stem cells. The opportunity to experience first-hand a procedure I have read, written, and edited articles on at Medical News Today.
On paper, stem cell donation can sound a bit intimidating.
While donating blood may be easy to visualize, stem cells feel more abstract. The name conjures images of microscopes, laboratories, and horribly invasive procedures.
I am happy to report that there was nothing horrible about my experience at all! And while it was not exactly a walk in the park — more a run in a wood — it is something that I would encourage folks to consider if they are able to do so.
I can't remember exactly when it was that I signed up on the stem cell register but 12 years ago feels about right.
At the time, I was working at a local hospital booking day surgery appointments for people. One day, some people from the charity came in to try and sign National Health Service employees and medical students up. It seemed like the thing to do at the time, and so my name was added to the register, joining over 800,000 others.
The charity in question was the British organization Anthony Nolan. They work to provide stem cells and bone marrow donations to patients with forms of blood cancer or blood disorders. The charity also supports research into new treatments for other conditions.
Why are stem cells so important?
To call stem cells "useful" would be doing them a disservice.
Stem cells are cells that do not yet have a specific role within the body. When they divide, they have the potential to develop into cells with a specific function. This process is known as differentiation. Each of the many different specialized cells of the adult human body were stem cells, to begin with.
Doctors and scientists can use stem cells to help treat certain conditions. Skin stem cells can aid with tissue regeneration to treat skin damage, and blood stem cells can form a crucial part of treatment for blood diseases such as leukemia.
Not only that, but researchers can also use stem cells in studies to either find out the causes of certain diseases or to develop new drug treatments for conditions.
---
Published in GI-Mail 02/2023 (English edition).