8th to 12th November 2020, Dubai, United Arab Emirates.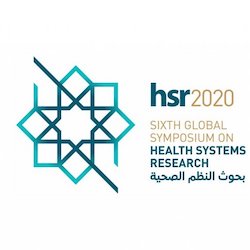 Ten years on from the First Global Symposium on Health Systems Research, health systems around the world are still far from achieving the Sustainable Development Goal to "Ensure healthy lives and promote well-being for all at all ages".
They remain predominantly sick care systems – disconnected from the broader upstream forces influencing health. A fundamental paradigm shift is needed if health systems are to be equipped to address complex and interconnected health and development challenges.
The Sixth Global Symposium on Health Systems Research (HSR2020) will seek to break old silos and re-orient health systems to address public health and engage the political, social, and environmental forces that perpetuate health inequities and social injustices. It will explore how technological, data and social innovations can address these challenges, and how health systems research can support essential transformations in health systems. 
This event will be a catalytic platform for sharing knowledge and experiences, raising awareness and advocating for change, building capacity, and developing partnerships for action.
HSR2020 comes at a potentially defining moment as health systems across the world are under pressure from the COVID-19 pandemic and needing, perhaps more than ever, to learn from and collaborate with one another against a shared global threat to health, wellbeing and social justice.
Whether you work in policy, practice, research, advocacy or education; whether you are concerned about health systems, humanitarian health, social protection, environmental sustainability and climate change, data science, ethics, political economy, social science, media or more, we invite you to join us to learn, share, and inform the transformation of health systems.
HSR2020 will explore the following sub-themes:
Sub-theme 1: Engaging political forces
Sub-theme 2: Engaging social, economic and environmental forces
Sub-theme 3: Engaging technological, data and social innovations
General Information

Date:

8th to 11th November 2020

Location:
Dubai World Trade Centre
Sheikh Rashid Halls
Dubai International Convention and Exhibition Centre
Trade CentreTrade Centre 2
67FQ+M4 Dubai
United Arab Emirates

For more information and detailed program visit the website or read about the theme here in detail.

---
Published in GI-Mail 06/2020 (English edition).