16th to 19th May 2020, Marseille, France.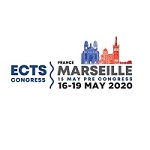 European Calcified Tissue Society (ECTS) serves as a forum for researchers and clinicians working in the musculoskeletal field to discover and discuss the latest advances and controversies in research and in the daily care of patients.
ECTS 2020 will focus on the best and latest science with renowned leaders in the  field. The congress has implemented more opportunities for discussions and beside the traditional symposia and workshops, there will also be debates, expert discussions and interactive sessions. The educational aspects of ECTS  will include pre-meeting courses, working group meetings and workshops. 
The programme will give the opportunity to new investigators to network, share common interests, receive mentoring advices and start building their own collaborative projects at an international level. 
General Information

Date:

16th to 19h May 2020

Location:
Palais des Congrès​ & des Expositions
Rond point du Prado
13008 Marseille
France

For more information and detailed program visit the website.

---
Published in GI-Mail 03/2020 (English edition).