20th to 23rd June 2017, Athens, Greece.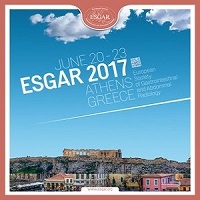 Twenty-seven years after the first European Society of Gastrointestinal and Abdominal Radiology (ESGAR) Meeting in Crete in 1990, Greece is proud to host ESGAR 2017 in Athens.
Year by year the ESGAR Annual Meeting has become more popular, more comprehensive, more innovative and more influential, while maintaining the two core characteristics of ESGAR: scientific quality and family atmosphere. The upcoming meeting in Athens builds on the success of previous ones, providing high quality education, demonstrating developments and innovations in abdominal diagnostic and interventional radiology, presenting research activities and facilitating exchange of experience and ideas.
The ESGAR 2017 Program Committee Members have designed a new exciting program. The postgraduate course, a major educational activity, on "Imaging the post-operative Abdomen" addresses the challenges in every day clinical practice when dealing with imaging evaluation of patients after surgery. The successful concept of Lecture Sessions, Plenary Sessions, different Workshops, the School of ESGAR (following the chapters from the European Training Curriculum), the Advanced US and the CT Colonography Centres covers a wide spectrum of topics and is adapted to different levels to meet the requirements of each participant, from the trainee to the highly dedicated specialist.
General Information
Date: 20th to 23rd June 2017
Location:
Megaron Athens International Conference Centre
Leoforos Vasilissis Sofias and Kokkali 1
11521 Athens
Greece
Registration: For information on registration and fees please click here.
Program: Find the preliminary program here.
Find more information on the congress here.
Published in GI-Mail 05/2017 (English edition). Sign up for GI-Mail here.  

Tip: More up to date educational events can be found online in the Education Database »medicine & health«.