Communication tips by Nursing on the Move.
Are you a medical professional who uses a foreign language at work?
Do you have a friend who speaks a foreign language at work or has a cultural background different from colleagues/customers?
Different cultures may have different ideas of what kind of verbal communication is appropriate.
Three areas where this is especially relevant in medical consultations are contextualization, metaphorical language and norms about honesty. These areas are in some ways parallel to the use of understandable, respectful and honest language.
Different cultures have different norms about how much information should be made explicit in words and how much information should be communicated nonverbally.
The volume of information has been studied widely and on this basis two types of cultures are being identified: low-context cultures with clear verbal messages and high-context cultures with primarily nonverbal communication .
For more information, tips and examples, click here.
© 2019 Communication for Professionals
Interpersonal Communication in Nursing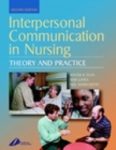 by Roger Ellisk, Bob Gates and Neil Kenworthy
Good communication is fundamental to effective nursing and this text interweaves theoretical concepts of communication into the analysis of everyday nursing situations. This approach makes material interesting and has the added benefit of encouraging reflective practice. Readers will be better able to make sense of face-to-face communication and know how their interactions can be improved… shop the book
Do Dutch doctors communicate differently with immigrant patients than with Dutch patients?
by Ludwien Meeuwesen, Johannes A.M. Harmsen, Roos M.D. Bernsen, Marc A. Bruijnzeels
The aim of this study was to gain deeper insight into relational aspects of the medical communication pattern in intercultural consultations at GP practices in the Netherlands. We ask whether there are differences in the verbal interaction of Dutch GPs with immigrant and Dutch patients… read more
---
Published in GI-Mail 03/2019 (English edition). Sign up for GI-Mail here.  

Tip: More up to date educational events can be found online in the Education Database »medicine & health«.