7th to 8th June 2017, London, United Kingdom.

The course offers a two day comprehensive update in airway management. Option to book for one or both days.
Day One – LECTURES
Day Two – WORKSHOPS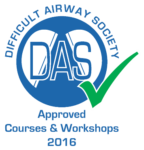 Features of the Advanced Airway Management Course
Workshops delivered by experts only
1:2 faculty delegate ratio
Consultant's workshops separate from trainees
No previous experience with advanced airway management required
Excellent feedback received from our previous courses
Take the opportunity to network with international anaesthetists
Nominated as the most comprehensive airway course in Europe  
General information

Dates:

7th June 2017
8th June 2017

Location: Guy's Hospital, Great Maze Pond, London, SE19RT, United Kingdom

Find more information on the course here. 

Published in GI-Mail 03/2017 (English + German edition). Sign up for GI-Mail here.  

Tip: More up to date educational events can be found online in the Education Database »medicine & health«.