24th to 25th July 2017, Singapore.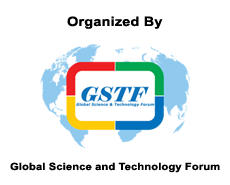 A healthy way of life should be every individual's goal. However, healthcare privileges differ across societies, and it requires the combined efforts of the government, the private sector, the public and health workers themselves to ensure both the accessibility and affordability of healthcare services. Funding for health and medical facilities are vital to the health and well-being of the public.
But most importantly, health and medical researchers and developers serve the task of advancing health care and medical science through the study and proper dissemination of information, in order to improve the state of health care service of any country.
About Global Science Technology Forum (GSTF)
GSTF provides a global intellectual platform for top notch academics and industry professionals to actively interact and share their ground-breaking research achievements. GSTF is dedicated to promoting research and development and offers an inter-disciplinary intellectual platform for leading scientists, researchers, academics and industry professionals across Asia Pacific to actively consult, network and collaborate with their counterparts across the globe.
General information

Date: 24th to 25th July 2017

Location:
Hotel Fort Canning
11 Canning Walk, Singapore 178881

Registration: For information on registration click here 

Published in GI-Mail 02/2017 (English edition). Sign up for GI-Mail here.  

Tip: More up to date educational events can be found online in the Education Database »medicine & health«.