9th to 10th January 2019, Dublin, Ireland.

We are very pleased to announce that the 2nd European Conference of Health Workforce Education & Research will take place at the Royal College of Surgeons (Coláiste Ríoga na Máinleá in Éirinn) in Dublin, Ireland on Wednesday 9th and Thursday 10th January 2019.
Hosted in collaboration with the RCSI (Royal College of Surgeons Ireland) Faculty of Nursing & Midwifery, the International Network for Health Workforce Education holds the conference to promote interdisciplinary co-operation and critical understanding of the latest research in the fields of health workforce education, training and development. The event will bring together researchers, educators, trainers and policy makers from around the world.
Conference Theme: Interprofessional Education
There is now significant evidence to indicate that effective interprofessional education is an innovative strategy that enables effective collaborative practice and improves healthcare systems. The 2010 WHO Framework states that "after almost 50 years of enquiry, the World Health Organization and its partners acknowledge that there is sufficient evidence to indicate that effective interprofessional education enables effective collaborative practice". The development of strong interprofessional teams to aid collaborative working practices must be imbedded thoughtout the working career of health professionals. This continual reinforcement of interprofessional skills will allow the health workforce to deal with an increasingly changing healthcare landscape.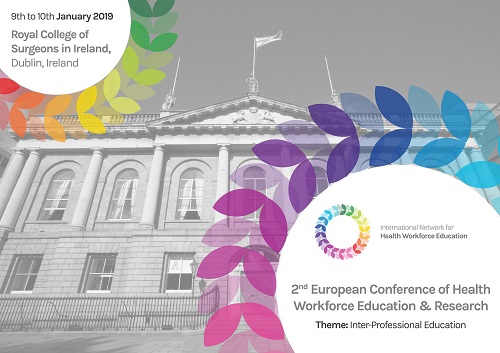 General Information
Date: 
9th to 10th January 2019
Location:
Royal College of Surgeons in Ireland
123 St Stephen's Green
Dublin, D02 YN77
Ireland
For more information visit the congress website.
---
Published in 10/2018 (German edition). Sign up for GI-Mail here.  

Tip: More up to date educational events can be found online in the Education Database »medicine & health«.