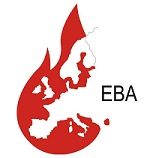 28th to 29th September 2018, Rotterdam, Netherlands.
The world is changing faster than ever before. And all people have the right to get the best treatments on a global scale. That's why we are teaming up at the Burn Care Summit. We are delighted to announce that the 2nd EBA (European Burns Association) educational course will be held in the beautiful city of Rotterdam, The Netherlands on September 28-29, 2018.
The leading theme of this course is 'Innovations in Burn Care'. We are all smart, so we know all the innovations. But why don't we adapt them? It has all to do with our brain position. The biggest obstacle is not to get the innovations in but to get rid of the old habits in burn care and how we communicate with our clients (we call them patients!).
The EBA Educational Course is scheduled between the bi-annual EBA congresses to provide practical education & guidelines to EBA members. We expect around 300 delegates; (plastic)surgeons, anaesthesiologists, nurse specialists and other burn team members (including those who are in training) from all over Europe and beyond.
The scientific programme will be totally plenary (no parallel sessions) except one hour hand-on workshops per day and a few sponsored sessions as well as posters from submitted abstracts. All aspects of burn care will find room in the scientific program although the following aspects will be highlighted: Patient reported outcomes, telemedicine, virtual reality and other bedside strategies, (paediatric) intensive care treatment, wound debridement and reconstructive surgery.
The course will be held in the congress center De Doelen, Rotterdam, The Netherlands. Rotterdam is a vibrant and cosmopolitan city featuring world class architecture, an innovative dining scene, and top-class art museums. In 2016, Lonely Planet declared Rotterdam as one of the top cities in the world for travellers.
We intend to organize a challenging and exciting programme, both scientifically and socially, that will inspire all multidisciplinary workers in burn centres throughout Europe and even the world!
Are you ready ? Please join us to start a new era in Burn Care.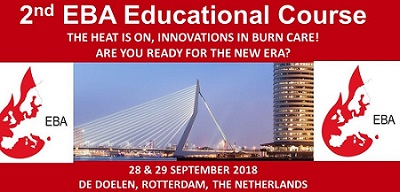 General Information
Date: 
28th to 29th September 2018
Location:
Congress Centre De Doelen
Schouwburgplein 50
3012 CL Rotterdam
Netherlands
Programme: Find the programme here.
Registration and Fees: Find more information on registration and fees here.
Contact: eba@congresscare.com
For more information visit the course website.
---
Published in GI-Mail 06/2018 (English edition). Sign up for GI-Mail here.  

Tip: More up to date educational events can be found online in the Education Database »medicine & health«.