2nd to 6th September 2017, Amsterdam, Netherlands.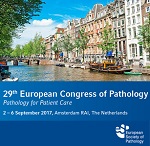 The 29th European Congress of Pathology will take place from 2nd – 6th September 2017 in Amsterdam.
The motto of the congress – Pathology for Patient Care – highlights the added value of the pathology science and discipline in providing care and improving health outcomes for patients and the population.
The scientific programme will focus on the central role of pathology and its current clinical applications, translational research, near-future innovations and the longer perspectives of paradigm shifts (integrated 'omics' care). It will cover all major areas of diagnostic, translational, molecular and investigative pathology addressing pathologists and scientists from all over the world. High throughput assays, bioinformatics and precision diagnostics will pervade the programme more than ever.
The European Congress of Pathology 2017 will also provide a unique occasion for updating your knowledge in pathology through up-to-date teaching courses highlighting news and views in diagnostic pathology.
General Information
Date: 2nd to 6th September 2017
Location:
Amsterdam RAI Exhibition & Convention Centre
Europaplein
1078 GZ Amsterdam
The Netherlands
Registration: For information on registration and fees please click here.
Programme: Find the Scientific Online Programme here.
Find more information on the congress here.
Published in GI-Mail 07/2017 (German edition). Sign up for GI-Mail here.  

Tip: More up to date educational events can be found online in the Education Database »medicine & health«.