6th to 9th September 2017, Barcelona, Spain.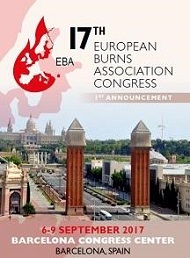 The aim of the 17th European Burns Association Congress is to provide a true interactive forum where new ideas, current outcomes and future perspectives can be exchanged and explored. A 360º vision of burn care provision, from the patient journey to the interaction of all team members will be the main theme and focus of the congress, with an emphasis of current evidence based delivery of care, quality of care, and outcome measurement.
All aspects of burn care will find room in the scientific program, although the following aspects will be highlighted:
Patient journey and team approach
Psychological and functional outcomes, rehabilitation, reintegration and quality of life
Golden standards, protocolization, accreditation, and quality improvement
Infection control
Nutrition and metabolic support
New developments in surgical treatment and wound care
Regenerative medicine in burns
Published in GI-Mail 06/2017 (English edition). Sign up for GI-Mail here.  

Tip: More up to date educational events can be found online in the Education Database »medicine & health«.