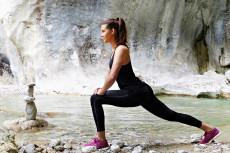 Arzt für Allgemeinmedizin (m/w) auf Honorararztbasis
General Medicine
in
Salzburg

Für eine Rehaeinrichtung in Salzburg suchen wir zum sofortigen Eintritt einen Arzt für Allgemeinmedizin (m/w)
Recommendations of the Month
Conferences
Jobs
News
Stanford Medicine launches exome-sequencing program for patients
The Clinical Genomics Program, which began as a pilot program a few years ago, offers whole-exome sequencing and analysis to patients with undiagnosed genetic diseases.
More...
How is the NHS performing?
March 2018 quarterly monitoring report
The King's Fund published its first quarterly monitoring report in April 2011 as part of our work to track, analyse and comment on the changes and challenges the health and care system is facing. This is the 25th report and aims to take stock of what has happened over the past quarter.
More...
With Health EU, everyone will have an avatar to manage their health
In the future, will people have virtual twins to help monitor their health? That is what Health EU is proposing. This major project, led by a consortium headed by EPFL, is in the running to be a European Union FET Flagship project. If successful, it will receive €1 billion in financing over ten years.
More...
Fax machines are still common in medicine !
Med. students are puzzled when forced to use this ancient technology
- Thousands of medical students across the country have never seen a fax machine, until the day they enter a hospital for the first time.
- Fax machines and pagers have virtually disappeared everywhere else.
- Health care is slower to digitize than most other industries.
More...
UVA Student Aims To Pursue Medicine On Both Sides Of The Atlantic
If Ted Obi has his way, the taxed healthcare system in rural Ghana will be streamlined by a telemedicine program conceived at the University of Virginia (UVA).
More...
Human Rights Day: Dec. 10th
The Universal Declaration of Human Rights turns 70
Paris – Official launch of the campaign - On 10 December, the UN High Commissioner for Human Rights and the Mayor of Paris will launch the campaign at a public conference at Palais Chaillot, the exact place where the Universal Declaration of Human Rights was adopted in 1948. From 29 November, the City of Paris will also host an exhibition on human rights.
More...
Junior hospital doctors
"Junior" doctors: does terminology matter?
David Matthews from the Oxford Health Alliance suggests abandoning the term "junior" to address the low morale of UK "trainee" hospital doctors, aged between 23 and 40 years.
More...
90–90–90 Treatment for All
An ambitious treatment target to help end the AIDS epidemic
By 2020, 90% of all people living with HIV will know their HIV status ...
More...
Incident Management System
To enhance World Health Organisations Emergency Programme (WHE) response capability,
To enhance World Health Organisations Emergency Programme (WHE) response capability, WHE proposed the development of a series of training packages to build staff competencies, skills and knowledge, to enhance deployment and response capability.
More...
MARIJUANA: The Latest Scientific Findings and Legalization
California, Massachusetts, Maine, and Nevada became the latest states to legalize recreational marijuana, bringing to 28 the number of states that have okayed the drug for medicinal use, recreational use, or both ...
What do we know about the health impacts of marijuana, and what do we still need to learn?

An Economy for the 99%
It´s time to build a human economy that benefits everyone, not just the privileged few
New estimates show that just eight men own the same wealth as the poorest half of the world. As growth benefits the richest, the rest of society – especially the poorest – suffers.

More...
European Virus Archive goes global
EVAg is a network of laboratories including 16 EU member state institutions and 9 non-EU institutions, that represent an extensive range of virological disciplines. EVAg establishes close relationships and collaborations with international organizations involved in public health (WHO, OIE and FAO).
More...
Establishing a Global Vaccine-Development Fund
As the Ebola epidemic in West Africa continues, albeit at a much lower level than it reached in the spring, we still lack a vaccine that has been shown to be safe and effective.

Much attention has appropriately been directed at major disease targets such as human immunodeficiency virus (HIV), tuberculosis, and malaria, for which organizations such as the National Institutes of Health, the Bill and Melinda Gates Foundation, and the Wellcome Trust are providing considerable financial support. Similar attention has been devoted to the provision of currently licensed pediatric vaccines, which is supported by GAVI (formerly the Global Alliance for Vaccines and Immunization).
More...