Hospital Installs Sleep Pod to Help Tackle Doctors' Burnout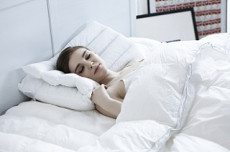 Doctors at Hereford County Hospital are being encouraged to take power naps to help keep them fresh and avoid burnout. The initiative is part of a national Fight Fatigue campaign and sees a special 'sleep pod' installed in a 3-month trial.
Wye Valley NHS Trust junior doctor Syed Husain (pictured) told Medscape News UK: "The sleep pods are primarily for power naps, and they're part of a wider initiative within the Trust as part of Fighting Fatigue. Doctors too tired to drive home after shifts are also being provided with rooms where they can catch up on sleep." Human Resources Director Sue Smith added: "We're encouraging staff to fight fatigue by taking breaks, staying hydrated, eating well, getting extra sleep before a night shift and taking a power nap during their break when working a night shift to improve alertness."
Fight Fatigue is a joint project between the Association of Anaesthetists, the Royal College of Anaesthetists, and the Faculty of Intensive Care Medicine. It launched in 2018 in response to the death of a trainee anaesthetist who died whilst driving home tired after a night shift.
A national survey of anaesthetic trainees by the College with a 59% response rate (2231 respondents) published in the journal Anaesthesia in 2017 found fatigue affected:
Physical health (73.6%)

Psychological wellbeing (71.2%)

Personal relationships (67.9%)
After night shifts, 57% said they experienced accidents or a near‐miss when travelling home. Also on night shifts, respondents highlighted an absence of breaks and inadequate rest facilities.
Association of Anaesthetists President, Dr Kathleen Ferguson, said: "We want to change attitudes across the NHS to ensure everyone understands the risks of fatigue and how to mitigate against them. We hope that by taking responsibility collectively for making changes to working practice, we can improve working conditions for all staff which will in turn benefit patient care."
Read more here.
Autor
: Nicky Broyd
Quelle
: Medscape, 25th January 2020
"Going International promotes access to education and training for all regardless of social, geographic and national borders."