Digital health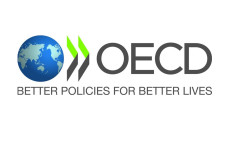 As a leader in delivering health applying economic analysis for health policy making, the OECD supports policy makers in harnessing data and digital technology for transforming health systems. As countries aim to shift their health systems towards putting people at the centre, digital technologies present immense opportunities for making progress.
However, they also challenge policy makers in many new ways. In the past thirty years, digital technology has transformed entire societies and the global economy. The use of data is driving evidence-based decisions and accelerating impact through analytic tools such as artificial intelligence which are having similar profound impacts. The extent of this transformation can be compared to previous industrial revolutions. But two decades into the 21st century, a similar transformation is yet to occur in health.
The key to achieving a health transformation powered by health data and digital tools is no longer developing the necessary technology – smartphones, mobile apps and other software. The technology is already there. Rather focus is needed on the foundations of digital and data – the policies, interoperability standards, capacity, public engagement, and governance required for an impactful transformation. A genuine health transformation powered by health data and digital tools is a political choice.
OECD work covers digital strategy, privacy, health data governance, health workforce policy, telemedicine/telehealth and artificial intelligence, among other topics.
KEY DATA
The proportion of adults seeking health information online more than doubled between 2008 and 2017.
Percentage of adults who sought health-related information online, 2008 and 2017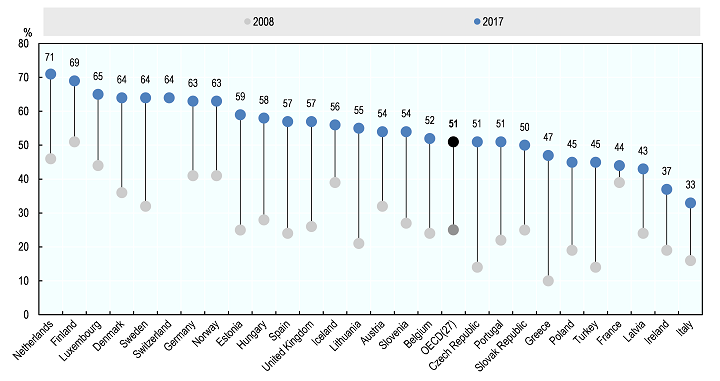 Source: OECD (2020), "ICT Access and Usage by Households and Individuals", OECD Telecommunications and Internet Statistics (database accessed on 02 April 2020).
Yet, the health sector invests less in information and communications technology (ICT) than other sectors of the economy.
Investment in software, databases and ICT services by the health sector
Investment in software and databases as a % of non-residential GFCF; purchases of intermediate ICT services as a % of output

Note: Gross fixed capital formation (GFCF) is a measure of spending on fixed assets. Countries covered: Australia, Austria, Denmark, Finland, France, Italy, Japan, the Netherlands, Norway, Sweden, the United Kingdom, and the United States.
Source: Calvino, F., et al. (2018), "A taxonomy of digital intensive sectors", OECD Science, Technology and Industry Working Papers, No. 2018/14, OECD Publishing, Paris.
Read the whole article here.
Quelle
: oecd.org (08.09.2023 - LW)
"Going International promotes access to education and training for all regardless of social, geographic and national borders."