2020 New York Times Voices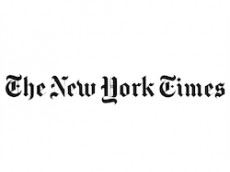 Hector Retamal remembers taking the train from Shanghai to Wuhan, China, in January, as the city was locking down:
A woman approached him and asked where he was going."'It's no good. It's dangerous. Don't go to Wuhan,'" he recalled her saying. "People were really afraid of the virus." Mr. Retamal arrived to find a deserted train station and a ghost town of a city of some 11 million people.
He and a videographer spent about 10 days there. The two men often had to walk, lugging their gear across the sprawling city and trying to keep a low profile from the police, who would shoo them back to their hotels. Coming across a man's body on the ground not far from one hospital was startling, Mr. Retamal said. The scene unfolded in utter chaos and confusion.
"My question was what was he doing there," Mr. Retamal said. "He didn't move and, wow, is he dead? I was starting to take photos because it was strange and at that exact moment a woman started to scream, saying 'No, no, no,' and she asked us to leave the place, and she was angry." More people arrived, surrounding Mr. Retamal and telling him not to take photos.
Everyone kept their distance from the man until people in white protective suits and masks arrived and placed him in a yellow body bag. They sprayed disinfectant around the area where he had lain. The police began to arrive, and Mr. Retamal hurried away. He and his colleagues never officially confirmed that the man had died of Covid-19; nobody would answer their questions... read more
In late March, Fabio Bucciarelli was in Bergamo, Italy, where infections were surging.
"It was some kind of laboratory for the world," he said. "But there were no images from inside." Every day, Italian television reported a counting of the dead. Still, Mr. Bucciarelli said, "nobody was ready for this." He trailed health care workers inside the home of Claudio Travelli, who was ill with the virus, as they examined him. Mr. Travelli was eventually taken to a hospital, where he stayed for three weeks.
By early December, the global toll of the pandemic had reached staggering numbers: 65 million people sickened and 1.5 million people dead.
Mr. Travelli was not among those who lost their lives. "He started back to work and started living his life again," Mr. Bucciarelli said. "It was one of the few happy stories."... read more

Victor Blue worked with the New York Times reporter Sheri Fink at the start of the pandemic, documenting Covid-19 as it raged through hospitals in New York.
"Everybody in the city was scared," Mr. Blue said. "The hardest thing at first was so much confusion around the virus and what it meant for vulnerable people, especially pregnant mothers." Mr. Blue had seen Precious Anderson, who was pregnant, on a ventilator in an intensive care unit. "She was not doing well — it did not appear she was going to make it," he said. While Ms. Anderson was intubated, doctors delivered her baby by cesarean section, and within a couple of days, Ms. Anderson improved. "We were happy to be able to do a story early on that brought some kind of hope, that people could see there were folks who were surviving it," he said. "That wasn't the case for most people intubated."
Look into all of New York Times 2020 in photos here.
Autor
: Curated by David Furst and Jeffrey Henson Scales.
Quelle
: The New York Times, 2020.
"Going International promotes access to education and training for all regardless of social, geographic and national borders."