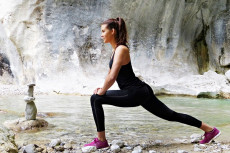 Arzt für Allgemeinmedizin (m/w) auf Honorararztbasis
Medicina General
in
Salzburg

Für eine Rehaeinrichtung in Salzburg suchen wir zum sofortigen Eintritt einen Arzt für Allgemeinmedizin (m/w)

Médecins Sans Frontières is looking for GYNAECOLOGISTS & OBSTETRICIANS
Ginecologia e Ostetricia
in
MSF teams are working in more than 70 countries

Médecins Sans Frontières is looking for GYNAECOLOGISTS & OBSTETRICIANS.  Médecins Sans Frontières is constantly looking for professionals who are ready to share some of their time and their skills for the assistance for people in need.  
Articoli di sperienze fatte
News
L'insegnamento della salute pubblica attraverso lenti europee
L'Unione Europea fa sempre più fatica a trovare il giusto equilibrio tra le proprie competenze e quelle pertinenti agli Stati membri, ...
Di più...
Early childhood adversities linked to health problems in tweens, teens
Study is first to point to brain changes that underlie poor health in some children
Researchers at Washington University School of Medicine in St. Louis have identified a pathway in the brain that seems to connect exposure to adverse experiences during early childhood with depression and problems with physical health in teens and preteens.
Di più...
CDC Reports Rising Rates of Drug Overdose Deaths in Rural Areas
Drug overdose death rates are higher in rural areas than in urban areas
Rates of drug overdose deaths are rising in nonmetropolitan (rural) areas, surpassing rates in metropolitan (urban) areas, according to a new report in the Morbidity and Mortality Weekly Report (MMWR) released today by the Centers for Disease Control and Prevention (CDC).
Di più...
Newborns with trisomy 13 or 18 benefit from heart surgery
Infants with the genetic disorders trisomy 13 or 18 are more likely to survive if they undergo heart surgery, a study from researchers at Stanford and the University of Arkansas has found.
Di più...
Cancers Associated with Overweight and Obesity Make up 40 percent of Cancers Diagnosed in the United States
More than 630,000 in the U.S. affected
Overweight and obesity are associated with increased risk of 13 types of cancer.
Di più...
Incident Management System
To enhance World Health Organisations Emergency Programme (WHE) response capability,
To enhance World Health Organisations Emergency Programme (WHE) response capability, WHE proposed the development of a series of training packages to build staff competencies, skills and knowledge, to enhance deployment and response capability.
Di più...
MARIJUANA: The Latest Scientific Findings and Legalization
California, Massachusetts, Maine, and Nevada became the latest states to legalize recreational marijuana, bringing to 28 the number of states that have okayed the drug for medicinal use, recreational use, or both ...
What do we know about the health impacts of marijuana, and what do we still need to learn?

Estimating HIV incidence and number of undiagnosed individuals living with HIV in the European Union/European Economic Area, 2015
Since 2011, human immunodeficiency virus (HIV) incidence appears unchanged in the European Union/European Economic Area with between 29,000 and 33,000 new cases reported annually up to 2015.
Di più...
Typhoid Fever: A Race Against Time
Salmonella uses immune cells, the Biozentrum of the University of Basel
The life-threatening disease typhoid fever results from the ongoing battle between the bacterial pathogen Salmonella and the immune cells of the body. Prof. Dirk Bumann's research group at the Biozentrum of the University of Basel has now uncovered how the typhoid pathogen repeatedly manages to evade the host's immune system. Their findings are published in the scientific journal Cell Host & Microbe
Di più...