CONy 2023 - the 17th World Congress on Controversies in Neurology (CONy)
Archivo

23.03.2023 - 26.03.2023
rixos Hotel, 3000 Dubrovnik, Croatia
Fecha límite para la aplicación:November 30th 2022
Contenido de curso
CONy provides a much-needed forum to illuminate contested areas in neurology and in treatment of neurological diseases. While most conferences are naturaly informative, there is often only limited time for thorough and critical discussions, particularly on still unresolved issues.
CONy provides a platform for international experts to discuss and compare experience, thus closing the gap between the expansion of knowledge and its dissemination and use.
Certificación
CME Accreditation
Información e inscripción:
https://cony.comtecmed.com/registration
Ms. Mrs Ludovica Di Veroli
Categorías
Neurologia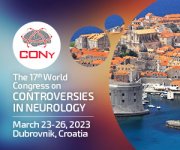 Tipo de título
Certificado de asistencia
Cantacto organizador
Rotschild Blvd 52
30000 Tel Aviv
Israel
"Going International fomenta el acceso a la educación y a la formación continua independientemente de fronteras sociales, geográficas y nacionales."