Health Workforce Policies in OECD Countries
Right Jobs, Right Skills, Right Places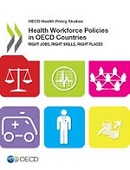 The publication Health Workforce Policies in OECD Countries is from the series OECD Health Policy Studies. It concentrates on the key aspects and newest trends in the field of health workforce policies in the member states of the OECD.
It observes the aspect of the so-called "free-riding" of the key participants in this field, namely doctors and nurses, and offers strategies for improving the situation.Following aspects are highlited:
analytical framework of health labour markets
trends and policy priorities and their impact on the international migration over OECD countries
education and training tips for doctors and nurses
geographic imbalances in distribution of healthcare services in OECD countries
skills use and skills mismatch in the health sector
Chapters 3 and 6 of this publication were created in cooperation with the European Commission.
To get access to the book click here.
Autor
: OECD
Quelle
: http://www.oecd.org/health/health-systems/health-workforce-policies-in-oecd-countries-9789264239517-en.htm
"Going International promotes access to education and training for all regardless of social, geographic and national borders."